The Address Book can be subdivided into arbitrary device groups. Such subdivision can ease administration when working with hundreds or thousands of Device Servers in a WAN scenario. You can create a scope of just 10 or 15 devices, instead of endlessly scrolling through a huge list to find the DS you need.
This is the Manage Address Book Groups Dialog: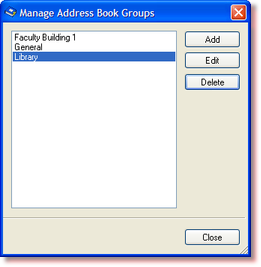 It allows you to create, edit and delete groups (the buttons are self-explanatory). A group has just one attribute -- a name.
Once you create a group, you can assign Device Servers to it using the Address Book Entry dialog. You can rename a group after you have filled it with devices. The devices will still be mapped to that group.