Size 3 Linux Tibbo Project PCB (LTPP3)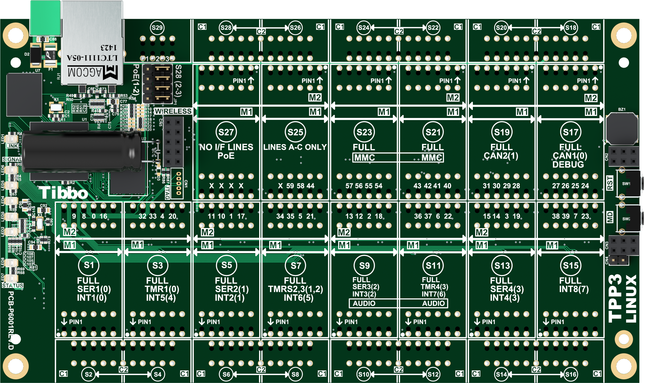 Introduction
The Size 3 Linux Tibbo Project PCB (LTPP3) comes preloaded with our highly polished distribution of Linux that is derived from the Red Hat line.
The LTPP3 is ideal for applications that require no human-machine interface while calling for a significant number of I/O lines and/or functions.
Offering seven tiles for a total of fourteen "M" and fourteen "C" sockets, the LTPP3 can be used to construct devices with up to five full serial ports, up to 25 relays, or up to 51 control lines, such as opto-inputs, pulse-width modulation (PWM), or open-collector outputs.
The generous number of available Tibbit sockets means you can increase your system's versatility by offering multiple power supply options, such as +5V, +12V, PoE, etc. You can also install multiple power supply Tibbits to increase total available power or provide redundancy.
This product can be used as a bare board or assembled into a Size 3 Tibbo Project Box.
Features
1GHz Cortex-A8 Sitara CPU from Texas Instruments
Runs a fine-tuned Linux distribution (kernel 4.10)
Comes with Tibbo OS for Linux (LTiOS) and Node.js preinstalled
10/100BaseT auto-MDIX Ethernet port (automatic detection of "straight" and "cross" cables)
Optional Wi-Fi interface (requires the GA1000 add-on module in the "L" configuration)
Optional GPRS interface (requires Tibbit #47)
Seven tiles with 51 general-purpose I/O lines

Fourteen sockets for Tibbit modules
Fourteen sockets for Tibbit connectors
One extra socket for Tibbit #37
Five Tibbit module sockets have the UART capability

Baudrates of up to 921,600bps
None/even/odd/mark/space parity modes
7/8 bits/character
Full-duplex mode with RTS/CTS and XON/XOFF flow control
Half-duplex mode with direction control
Encoding and decoding of Wiegand and clock/data streams
One of the UARTs works as a Linux console

Up to 12 SPI or 13 I²C interfaces
Onboard buzzer
RTC with a backup supercapacitor
512MB DDR3 SDRAM
512MB NAND flash
2,048-byte EEPROM for data storage
Eight onboard LEDs

Yellow Ethernet link LED
Five blue LEDs (for Wi-Fi signal strength indication, etc.)

Automatic on-demand CPU speed throttling
Reliable power-on/ brown-out reset circuit
Power: 500mA @ 5V (100Base-T mode, full speed)
Dimensions (LxW): 165 x 94mm
Operating temperature range: –40°C to 70°C
Linux software and applications are upgradeable using the DNF system
Tibbo BASIC/C application can be debugged through the Ethernet LAN