#51, M1S: CAN Bus [DEPRECATED]

THIS TIBBIT HAS BEEN DEPRECATED
Function: CAN bus transceiver with isolated power
Form factor: M1S
Category: Input/output module
Special needs: [CAN]
Power requirements: 5V/60mA (keep in mind that externally attached CAN devices may additionally consume up to 200mA)
See also: ---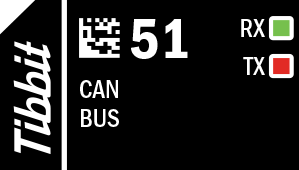 This Tibbit was designed for use with the LTPP3, which has been superseded by the LTPP3(G2).
This Tibbit is not compatible with the LTPP3(G2).
Details
This Tibbit features an isolated power supply that can provide up to 200mA of power to attached CAN devices.
This Tibbit is only supported by the Size 3 Linux Tibbo Project PCB (LTPP3).
LEDs
There are two LEDs: one red and one green connected to the TX and RX lines, respectively.