#48, H2: Audio In/Out [DEPRECATED]

THIS TIBBIT HAS BEEN DEPRECATED
Function: Audio In/Out Tibbit
Form factor: H2
Category: Input/output module
Special needs: [AUD]
Power requirements: 5V/50mA
Mates with: ---
See also: ---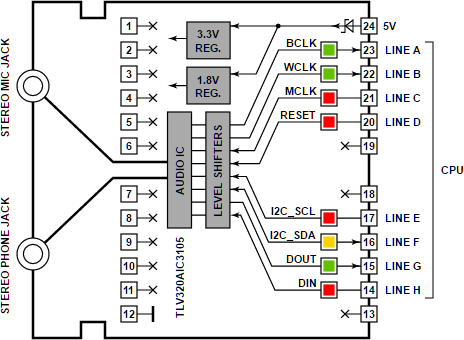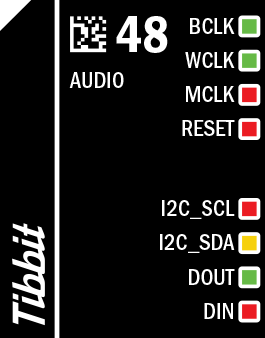 This Tibbit was designed for use with the LTPP3, which has been superseded by the LTPP3(G2).
This Tibbit is not compatible with the LTPP3(G2).
Details
Tibbit #48 has two 3.5mm stereo jacks on the front of its C2 section. The left jack is for connecting to a stereo microphone, and the right jack is for connecting to stereo headphones or an external amplifier. The Tibbit is based on the TLV320AIC3105 audio codec IC.
This Tibbit is only supported by the Size 3 Linux Tibbo Project PCB (LTPP3).
Interface signals
The clock frequency is supplied via the MCLK (master clock) line. BCLK and WCLK clocks are generated by the audio IC and are fed back into the sound port on the LTPP3's processor. The audio data is transmitted via DIN and DOUT lines. There is also an additional I²C port (SCL and SDA lines) that is used for configuring the codec.
LEDs
There are three green, four red, and one yellow LED. The green LEDs are connected to the BCLK, WCLK, and DOUT lines. The red LEDs are connected to the MCLK, RESET, I2C_SCL, and DIN lines. The yellow LED is connected to the I2C_SDA line.