#09, M1S: Low-Power 5V Supply, 12V Input

Function: Low-power non-isolated power supply with 5V output, 9-18V input range, shutdown control
Form factor: M1S
Category: Power supply module
Special needs: ---
Power requirements: external 9-18V power
Mates with: #18, #19, #20, #21
See also: #10, #12, #23, #25, #33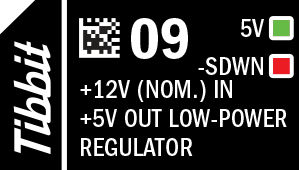 Details
This Tibbit is can generate up to 700mA of 5V power from the external input in the 9-18V range. Multiple power supply Tibbits can be used to increase available current or for power redundancy.
This module has a dedicated shutdown (–SDWN) line. Pull the line LOW to disable this Tibbit.
Combine Tibbit #09 with #18 (it has a power jack and two terminal blocks), #20 (nine terminal blocks), or #21 (four terminal blocks).
LEDs
There is one green and one red LED. The green LED is connected to the +5V output and lights up when voltage is present on this line. The red LED is connected to the –SDWN line and lights up when the line is LOW (i.e., when the power supply is shut down). The red LED is buffered (with a logic gate).