#49, C2: microSD Card Slot [DEPRECATED]

THIS TIBBIT HAS BEEN DEPRECATED
Function: Micro SD Card Slot
Form factor: C2
Special needs: [MMC]
Power requirements: 5V/10mA
See also: ---
Mates with: #00-1 (two #00-1s are required)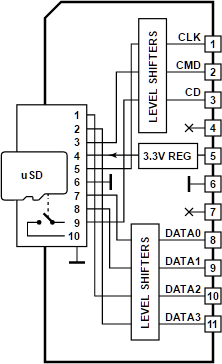 This Tibbit was designed for use with the LTPP3, which has been superseded by the LTPP3(G2).
As the LTPP3(G2) is equipped with a microSD card slot, this Tibbit is neither required nor compatible with the LTPP3(G2).
Details
Use this Tibbit in conjunction with two Tibbits #00-1.
This Tibbit is only supported by the Size 3 Linux Tibbo Project PCB (LTPP3).