M2 "Wide" Tibbits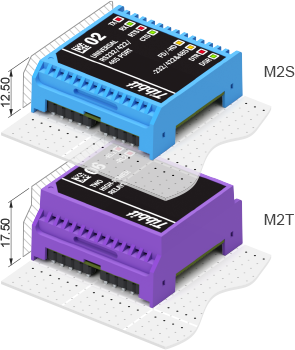 M2 Tibbits are double-width modules occupying two "M" sockets on the standard tile. They are roughly 14 x 14 "squares" (one "square" is 2.54 x 2.54 mm).
With double the size comes the doubled internal space and I/O capacity. M2 modules have eight I/O lines. They are used for "grander things" that just wouldn't fit into the M1 form factor.
Like M1 modules, M2 devices can be short (M2S) or tall (M2T).
The color-coding scheme is identical to that of M1 Tibbits:
| | | | | |
| --- | --- | --- | --- | --- |
| | | | | |
| Input module | Output module | Input/Output | Power supply | Blank module |
M2 Tibbits can incorporate up to eight status LEDs.
I/O pins
M2 modules have four groups of six pins each, arranged into two rows: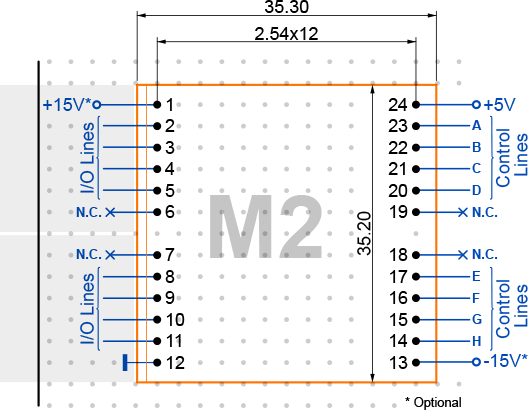 Pins 14-17 and 20-23 are control lines H-A. They are for interfacing with our embedded modules or other microcontrollers. On Tibbo Project PCBs (TPPs), these pins are connected to the main CPU.
Pins 2-5 and 8-11 are I/O lines facing the outside world. On TPPs, they go to Tibbit connector sockets (i.e., connect to C1 and C2 devices).
Pins 12 and 24 are the GROUND and +5V power pins. Most Tibbit Modules consume (take) 5V power. There are also power supply Tibbits that generate 5V power from a variety of sources. Those output 5V through pin 12; for an example, see Tibbit #33.
Pins 1 and 13 are for the additional +15V and –15V voltages. These are optional and only needed by a few Tibbits. Special power supply Tibbit #12 generates +15V and –15V from the main 5V power.
Pins 6, 7, 18, and 19 are unused and should be left unconnected.
Notice that each pin row has a "missing pin" in this middle. This separates a row into two groups of six pins.