DS10x0, DS10x2, DS10x3 (Four Serial Ports)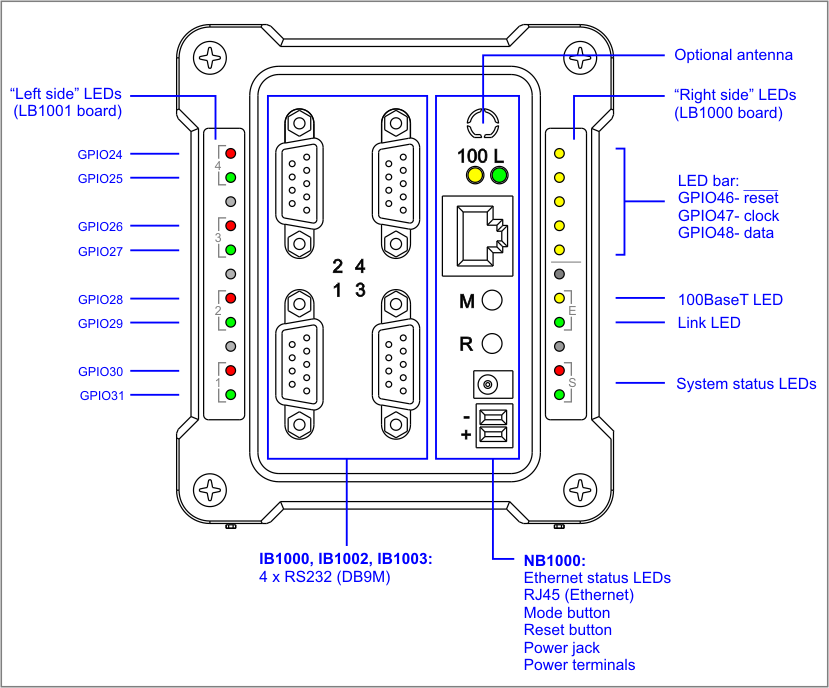 The DS10x0, DS10x2, and DS10x3 Tibbo BASIC/C-programmable controllers offer four serial ports. The DS1000, DS1002, and DS1003 are based on the NB1000 network board (Ethernet interface only). The DS1010, DS1012, and DS1013 are based on the NB1010 network board (Ethernet + optional Wi-Fi + optional GPRS).

Read carefully the explanation about the type of antenna installed when the DS1010, DS1012, and DS1013 are ordered with the Wi-Fi and/or GPRS options.
The DS1000 and DS1010 have four "simple" RS232 serial ports (the IB1000 interface board is used);
The DS1002 and DS1012 have four non-isolated universal RS232/422/485 serial ports (the IB1002 interface board is used);
The DS1003 and DS1013 have four electrically isolated RS232/422/485 serial ports (the IB1003 interface board is used);
Follow these quick links to often-needed information:
Right (network) side of the device:
Left (interface) side of the device: