TEV-LBx Boards
The TEV-LBx boards carry display panels. Three boards are supplied by Tibbo:
TEV-LB0: carries a 128x64, black/white WINSTAR WG12864A LCD panel (SAMSUNG S6B0108 controller)
TEV-LB1: carries a 128x96, 4-bit RITDISPLAY RGS13128096 OLED panel (SOLOMON SSD1329 controller)
TEV-LB2: carries a 176x220 AMPIRE AM176220 TFT panel (HIMAX HX8309 controller)
You can choose which display board will be installed on your EM1000TEV. See Ordering Info for details.
TEV-LBx Board Connector
The TEV-LBx boards are connected to the TEV-MB0 motherboard through a 2x20-pin connector. Each two pins of the connector are combined together for better electrical contact. Therefore, the connector effectively has 20 lines.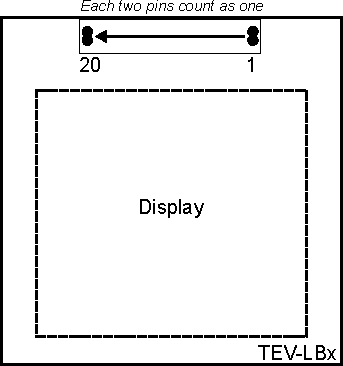 | | |
| --- | --- |
| Pin # | Function |
| 1 | VIN (12V) |
| 2 | 5V |
| 3 | 3.3V |
| 4 | GND |
| 5 | GPIO48* |
| 6 | GPIO47* |
| 7 | GPIO46* |
| 8 | GPIO39/P4.7* |
| 9 | GPIO38/P4.6* |
| 10 | GPIO37/P4.5* |
| 11 | GPIO36/P4.4* |
| 12 | GPIO35/P4.3* |
| 13 | GPIO34/P4.2* |
| 14 | GPIO33/P4.1* |
| 15 | GPIO32/P4.0* |
| 16 | GPIO44* |
| 17 | GPIO43* |
| 18 | GPIO42* |
| 19 | GPIO41* |
| 20 | GPIO40* |
* I/O pins of the EM1000 module