EM200

This is a legacy device. The following information is provided as it was documented originally, albeit with some corrections and changes for clarity and style.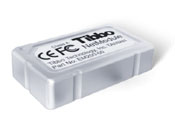 Introduction
The EM200 is a Tibbo BASIC/C-programmable embedded module that can serve as a networking coprocessor of your "connected" device. The firmware of the EM200, called Tibbo OS (TiOS), features a virtual machine that executes your application written in Tibbo BASIC/C. The EM200 has no predefined functionality whatsoever — programmability in Tibbo BASIC/C means that you can create your own unique EM200 applications!
Each hardware faculty of the EM200 is supported by a sophisticated programming object, which you interact with from the Tibbo BASIC/C application. Together, objects form a platform that defines the EM200's capabilities from the programming point of view.
Hardware Features
Very compact dimensions (32.1 x 18.5 x 7.3 mm)
One 100/10BaseT Ethernet port (standard Ethernet magnetics are NOT integrated into the module)

Baudrates of up to 115,200bps
None/even/odd/mark/space parity modes
7/8 bits/character modes
Full-duplex mode with optional flow control
Half-duplex mode with automatic direction control
Encoding and decoding of Wiegand and clock/data streams

128KB flash memory for TiOS and application code
2KB EEPROM for data storage

Two lines for green and red status LED control
Two lines for Ethernet status LED control

Device firmware can be upgraded through the serial port or Ethernet.
Tibbo BASIC/C application can be uploaded and debugged through the Ethernet.
Programming Features
The EM200 runs Tibbo OS (TiOS). The following is a list of the features supported by its programming platform:
The following data types and related functions are supported:

Byte and char (occupy 1 byte)
Integer (word) and short (occupy 2 bytes)
String, can be up to 255 characters long

The following function groups are supported:

Conversion to and from strings: asc, chr, val, str, left, mid, right, len, instr, etc. (16 functions in total)