EM1202 BASIC/C-Programmable Ethernet Module
NOT RECOMMENDED FOR NEW DESIGNS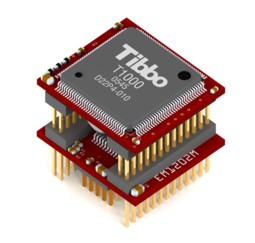 Introduction
While occupying a miniscule 19x17mm on your PCB, the EM1202 Tibbo BASIC/C-programmable embedded module retains most features of the much larger EM1000. These include a 100Base/T Ethernet port, four serial ports, onboard flash, EEPROM, and 24 I/O lines that can be used to interface with an external LCD, keypad, buzzer, and card readers.
Thanks to its miniature dimensions, the EM1202 can be conveniently used as a network front end in automation, security, and data collection systems.
The EM1202 is fully supported by Tibbo IDE (TIDE) and a dedicated EM1202 platform that covers all hardware facilities of the module. For convenient testing and evaluation, Tibbo offers the EM1202EV evaluation board. The EM1202 can also support Wi-Fi communications (this requires the GA1000 add-on module).
Hardware Features
10/100BaseT auto-MDIX Ethernet port (standard Ethernet magnetics are NOT integrated into the module)
Optional Wi-Fi interface (requires the GA1000)
Four high-speed serial ports (CMOS-level):

Baudrates of up to 921,600bps
None/even/odd/mark/space parity modes
7/8 bits/character modes
Full-duplex mode with optional flow control
Half-duplex mode with direction control
Encoding and decoding of Wiegand and clock/data streams

512KB or 1,024KB flash memory for firmware, application, and data storage
2KB EEPROM for data storage.

Eight interrupt lines
Serial port lines
24 lines that are combined into three 8-bit ports
Square wave output (6Hz - 22.1184MHz), which can be used to control an external buzzer

Supports an external LCD and keypad

Two lines for green and red status LED control
Two lines for Ethernet status LED control

Software-controlled onboard PLL to select the clock frequency of the device:

11.0592MHz with PLL off
88.4736MHz with PLL on

Reliable power-on/brown-out reset circuit:

No additional external reset circuitry required
Master reset input also provided

Power: 230mA @ 3.3V (100BaseT mode, PLL on)
Dimensions: 17.1x19.1x14.6mm
Firmware and compiled Tibbo BASIC/C app can be updated through the serial port or Ethernet LAN
Tibbo BASIC/C application can be debugged through the network (no additional debugging hardware is required)
Programming Features
The EM1202 runs Tibbo OS (TiOS). The following is a list of the features supported by its programming platform:
Variable Types: Byte, char, integer (word), short, dword, long, real, string, plus user-defined arrays and structures
Function Groups: 27 string functions, eight date/time conversion functions, encryption/hash calculation functions, and more