Bookmarks Pane
View > Bookmarks to show/hide this pane.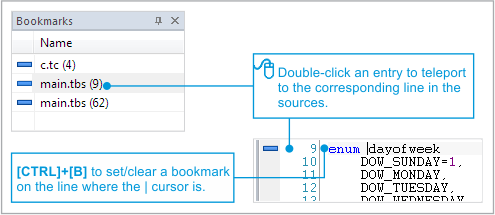 Bookmarks are provided for your editing convenience. You can set a bookmark and return to it later. Bookmarks have nothing to do with debugging.
This pane shows all bookmarks set in your project. Double-clicking on any entry in the list teleports you to a corresponding place in the sources.
To toggle (set/clear) a bookmark, put the | cursor on the line in the Editor pane you wish to mark/unmark and press [CTRL]+[B].
To clear all bookmarks right-click on the Bookmarks pane and select Remove All.