TiOS Simulator
The TiOS Simulator implements a virtual Tibbo OS (TiOS) device with an Ethernet interface, EEPROM, flash memory, MD button, buzzer, status LEDs, LCD and keypad.
The simulator makes it possible to test-drive Tibbo IDE (TIDE) and TiOS, as well as run and debug Tibbo BASIC/C applications, without having to commit to a purchase of a physical Tibbo device.
The simulator installs alongside TIDE and can be found in your Windows Start menu under Tibbo > Tibbo IDE > TiOS Simulator.
You can also start the simulator from within TIDE: Debug > Start TiOS Simulator.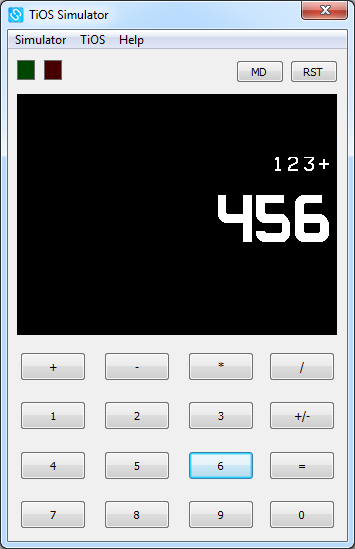 TIDE is distributed with a number of test projects written specifically for the TiOS Simulator. You can find them in your computer at: My Documents\TIDE\Samples.

The simulator cannot fully replace an actual Tibbo device. The SIMULATOR platform does not support many objects, and numerous limitations apply to those that are supported. As such, the simulator can only serve as the first step in your exploration of the Tibbo world. For a taste of the real thing, invest in a real Tibbo device — this will be money well spent.