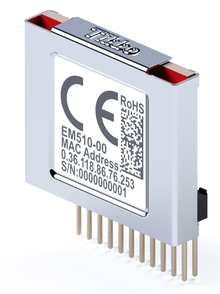 The EM510 "MiniMo" (R) device is a miniature stand-alone BASIC-programmable embedded module, designed to be used in combination with a standard LED/magnetics RJ45 jack. The combined footprint of the EM510 and a standard RJ45 jack is only 28.5x18.5mm.
The module's hardware mix, which includes 10/100BaseT Ethernet port, a serial port, and 8 GPIO lines, has been carefully tailored to address the basic needs of lightweight IoT devices. If your application has a need to store data in files, an external flash IC can be connected to the EM510. By connecting the WA2000 add-on module to the EM510 you can also enable Wi-Fi and BLE (Bluetooth Low Energy) communications.
Compact dimensions, innovative space-saving "vertical slice" mechanical design, low power consumption, and patented dual-function LED control lines make the module an excellent fit for miniature, cost-sensitive IoT designs.
The EM510 is fully supported by TIDE software and a dedicated EM510 platform that covers all hardware facilities of the device (see TIDE, TiOS, Tibbo BASIC, and Tibbo C Manual). For convenient testing and evaluation Tibbo offers the EM510EV development system.
The EM510 can be ordered standalone or in combination with an industry-standard RJ45 jack and other discrete components required to complete a working circuit.
The EM510 is a higher-performance upgrade to our EM500 device. Here is a small list of important improvements:
32-bit architecture (vs. 8-bit architecture of the EM500).
17 to 33 times better performance, depending on the calculations and variable types.
8 times faster GPIO manipulation.
2.3 times lower power consumption (110mA vs. 260mA).
Added support for BLE (Bluetooth Low Energy) communications (this requires the WA2000 add-on).
Added suppport for WPA and WPA2 Wi-Fi security modes (Wi-Fi communications rely on the WA2000 add-on).
SSI (SPI and I2C communications) object included.
The ability to update TiOS firmware and compiled Tibbo BASIC/C app over-the-air (this requires the WA2000 and an iOS or Android device).
20 - C lower internal running temperature (52 - C vs. 73 - C).
Industrial operating temperature range (-40 ~ +85C).
32-bit architecture.
Powered by Tibbo OS (TiOS).
10/100BaseT auto-MDIX Ethernet port (automatic detection of "straight" and "cross" cables). Standard Ethernet magnetics are NOT integrated into the module.

One serial port (CMOS-level):

Baudrates of up to 460,800bps;
None*/even/odd/mark/space parity modes;
7*/8 bits/character;
Full-duplex mode with RTS/CTS and XON/XOFF flow control;
Half-duplex mode with direction control;
Encoding and decoding of Wiegand and clock/data streams.

10 general-purpose I/O lines; 2 lines can work as interrupts.

16.1KB SRAM for Tibbo BASIC/C variables and data.

512KB flash memory for TiOS and application code (224KB for application code).

Optional 1MB flash disk (requires an external SPI flash IC).

2048-byte EEPROM (2016 bytes are available for the application's data storage).

Three control lines for status LEDs:

Reliable power-on/brown-out reset circuit (external reset IC not required).

Power: 110mA @ 3.3V (100BaseT mode).

"Vertical slice" form factor.

Dimensions (HxWxT): 16 x 18.5 x 6.5mm.

Operating temperature range: -40 ~ +85C.
Firmware and compiled Tibbo BASIC/C app can be updated through:

The serial port;
Ethernet LAN; or
Over-the-air (this requires the WA2000 and an iOS or Android device).
Tibbo BASIC/C application can be debugged through the Ethernet LAN (no additional debugging hardware is required).
* The EM510 does not support the combination of 7 bits/character mode and the "none" parity mode.
Platform objects:

bt — in charge of the BLE (Bluetooth Low-Energy) interface.
button — monitors the MD (setup) line.
fd — manages the flash memory file system and direct sector access.
io — handles I/O lines, ports, and interrupts.
net — controls the Ethernet port.
pat — "plays" patterns on up to five LED pairs.
ppp — accesses the Internet over a serial modem (GPRS, etc.).
pppoe — accesses the Internet over an ADSL modem.
romfile — facilitates access to resource files (fixed data).
ser — controls the serial port (UART, Wiegand, clock/data modes).
sock — socket comms (up to 16 UDP, TCP, and HTTP sessions).
ssi — controls serial synchronous interface channels (SPI, I2C).
stor — provides access to the EEPROM.
sys — in charge of general device functionality.
wln — handles the Wi-Fi interface.
Variable Types: Byte, char, integer (word), short, dword, long, real, string, plus user-defined arrays and structures.
Function groups: String functions, date/time conversion functions, encryption/hash calculation functions, and more.